Solar Panel Risen Mono PERC 440Wp
Monocrystalline photovoltaic module (Passive Emitter rear Cell) of 440Wp PERC 130 cells that stands out for its quality and high efficiency reaching 21.2% thanks to two factors, the Half Cell structure and the conversion capacity of the Mono PERC cells that minimise solar radiation losses. It reduces the thermal resistance and increases the output power between 5 and 10 Wp.
Photovoltaic solar panel with a silver frame and has a product warranty of 12 years and a power warranty of up to 25 years.
RISEN solar panels belong to the group of brands classified as Tier 1, the world's best manufacturers in the solar sector.
The Risen 440W panel stands out for its great advantages:
- Solar panel with passivated back emitter solar cells which gives it high efficiency (>20%) compared to standard cells.
- The lowest temperature coefficient in the industry, which improves its performance at high temperatures.
- High quality encapsulation reduces the PID effect and improves the durability of the solar panel over its lifetime.
- Solar panel with better performance in partial shading situations due to its 130 cells
- Double inspection by electroluminescence in the production plant
- Split cells provide better performance due to shorter bus bar lengths generated by electron recombination
- Annual degradation less than 0.55%.
- The 130 smaller cells in the panel reach lower temperatures due to lower internal current, which helps to minimise hot spots.
- Less formation of micro-cracks in the cells as they are smaller, which favours the production of solar energy throughout the lifetime of the solar panel.
- Tempered glass with anti-reflective and anti-adhesive coating improves solar panel performance in harsh environmental conditions.
- Solar panel capable of withstanding high mechanical static-snow loads up to (5400Pa) and dynamic-wind loads up to 2400Pa.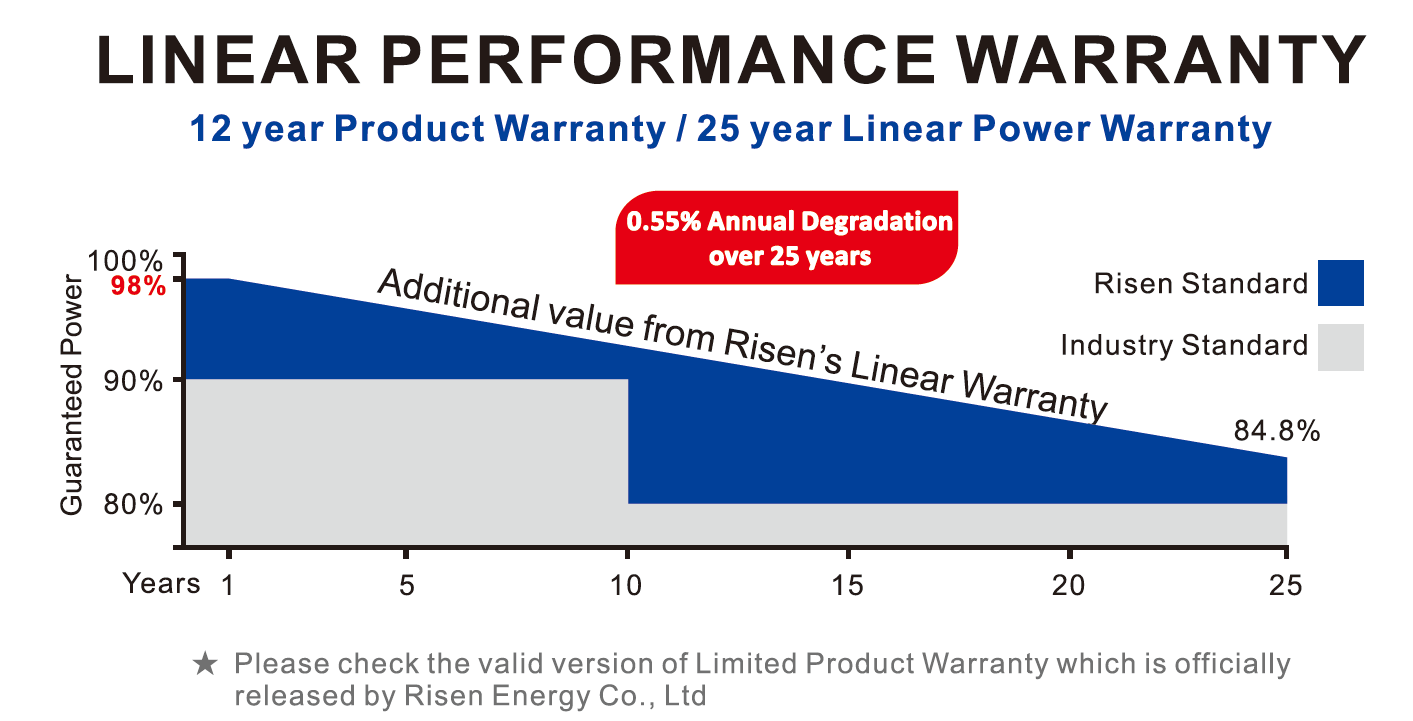 This solar panel is undoubtedly one of the most powerful, competitive and efficient solar panels on the market with the guarantee of Risen being one of the first manufacturers of solar panels in the world. For any questions or queries please contact our technical team at info@tienda-solar.es
Model

RSM130-8-440M

DC Current Characteristics

Peak Power (Wp)

440

Maximum power tolerance (%)

+5/0

Module efficiency (%)

21.2

Dimensions (mm)

1894×1096×30mm

Weight (kg)

22,5

AC Current Characteristics

Open Circuit Voltage (V)

44.85

Short Circuit Current (A)

12.5

Maximum Power Voltage (V)

37.34

Maximum Power Current (A)

11.79

Mechanical Characteristics

Number of cells

Monocrystalline PERC 10x13

Front glass

High-transmission tempered with anti-reflective coating

Frame

Silver aluminium

JBox

IP-68 or 1500VDC
Data sheet
Power (W)

400 - 445

Height (cm)

180 - 189.9

Width (cm)

100 - 109.9

Frame

Black

Short Circuit Current Isc (A)

12 - 12.99
16 other products in the same category: