Battery Turbo Energy Lithium Series Slim 5,1kW
Price on request, best price guaranteed
Lithium battery of the Turbo Energy brand, Lithium Series slim model of 48 V and 5,1kW.
Lithium Ferro Phosphate battery with a capacity of 5.1 kWh (100Ah 51.2V) ideal for solar installations. Compatible with Turbo Energy, Victron, Voltronic, Goodwe, Growatt, Solis, Sofar, Darfon, Sermatec and Ingeteam inverters. This battery is characterised by having the same performance being 33% thinner and 15% lighter. Parallel connection capacity of up to 15 batteries. It has a useful life of 6000 cycles and a depth of discharge of 90%. The lithium cells are protected against high temperatures and thanks to its quick connections, it is easy to install. 
10 year warranty.
The Turbo Energy Lithium Series solar batteries composed of LiFePo4 have the following advantages over traditional lead acid batteries:
- NO maintenance required.
- 1/5 lighter than lead acid batteries.
- 10 year warranty compared to the 2 years offered by lead acid battery manufacturers.
- It is possible to reach 100% depth of discharge without any inconvenience for the autonomy of the system, although it is recommended not to discharge more than 90% without communication.
- More than 6,000 cycles compared to the 2,500 of the best lead acid batteries.
- Possibility of charging the batteries in 2 hours, compared to 8 hours for lead acid batteries.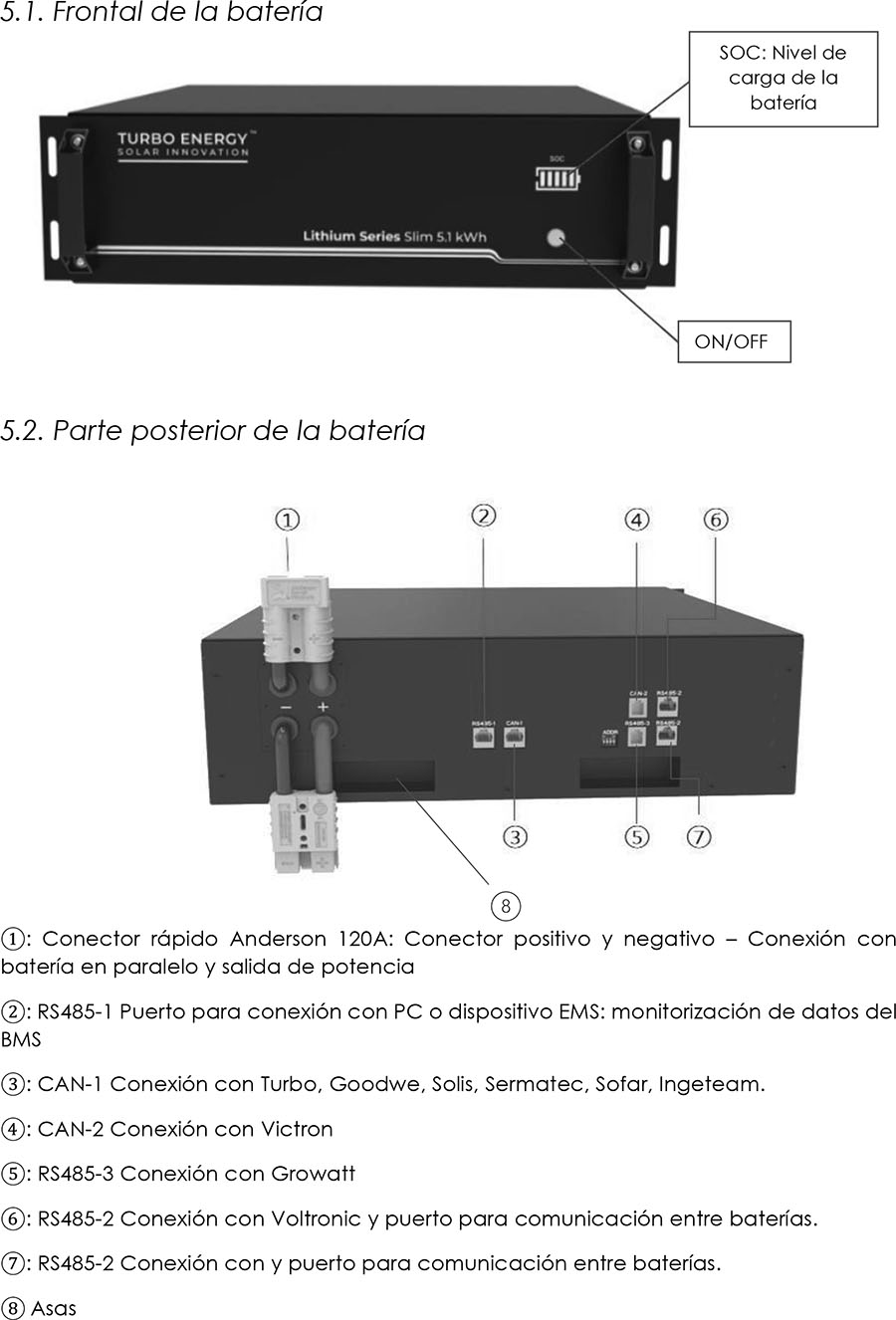 Datasheet:
| | |
| --- | --- |
| Model | Lithium Series 5,1kW slim |
| Electrical |   |
| Nominal capacity | 5.12 kWh |
| Useful capacity | 5 kWh |
| Depth of discharge | 90% |
| Rated voltage | 51.2V |
| Voltage operating range | 43.2 – 57.6V |
| Life cycle | >=6000 |
| Physicists |   |
| Weight | 44 kg |
| Dimensions | 440 x 460 x 133 mm |
| Protection class | IP20 |
| Battery type | LiFePO4 |
| Operation |   |
| Maximum charging/discharging current | 100A (0.5 C) |
| Temperature operating range | 0ºC... 50ºC |
| Humidity | 15% - 85% |
| Maximum operating altitude | < 3000 m |
| Bms |   |
| Power consumption | <100u  A |
| Monitoring parameters | System voltage, current, voltage and cell temperature. |
| Communication | Compatible CAN and RS-485 |
16 other products in the same category: