Solar inverter DEYE Hybrid 12kW
Stock in January 2024
Three-phase hybrid solar inverter connected to the electricity grid that allows the charging of solar batteries either through solar panels or the electricity grid. The DEYE Hybrid model of 12kW, allows output powers up to 12000W AC and connect up to 15600W of photovoltaic panel power. Solar inverter compatible with 48V Pylontech batteries. Its 2 MPPT's allow the optimization of the energy produced by the solar panels. It has protection against overcurrents, overloads, grounding fault monitoring, DC injection monitoring and RCD protection and high temperatures. This inverter can operate both networked and isolated.
The product warranty is 5 years.
Solar inverter with 2 MPPT's with input ready to connect 2 strings, with a maximum input current of 13A per string, with an operating voltage per MPPT between 200 to 650V. This efficient inverter allows easy installation in both residential and industrial areas. It is also compatible with the Chint-DDSU666-H wattmeter, which allows to control the power balance between the energy demanded by the home or industry and the photovoltaic production, while ensuring that we do not discharge to the grid if we wish to do so. 
This inverter offers the following features:
- IP65 protection and integrated LCD (Liquid Crystal Display)
- Supports both network connection and isolated operation
- Allows you to connect several batteries in parallel
- Allows you to connect up to 10 units in parallel
- Allows to store energy from a diesel generator
Technical data:
Inverter

Nominal power

12000 W

Max output power

13200W

Charger

 

Battery voltage range

40 - 60 V

Max charge current

240 A

Max discharge current

240 A

Max PV power

15600W

 

MPPT voltage range

200 - 650 V

Max input current

26/13 A

Max shortcircuit current

34/17 A

Nº MPPT

2

 

Efficiency

97,6 %

Dimensions

422 x 699,3 x 279 mm

Weight

33,6 kg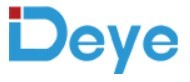 Data sheet
Power (kW)

10 - 14.9

Phase Type

Three-phase

Max Current Input (A)

13 - 13.99

Compatibility list

Pylontech US2000C / US3000C / US5000

Compatibility list

Dyness BX51100

Compatibility list

Dyness Power Box

Compatibility list

Pylontech US5000 / Force L2

Compatibility list

Pylontech US3000C
16 other products in the same category: