Solar panel LONGI 445Wp HiMO4 72HBD Bifacial
Bifacial photovoltaic module with silver frame and half-cut cell technology of 445Wp power with 20.5% efficiency. This panel incorporates new technology from LONGI, with highly efficient cells composed of Gallium wafers, which increase the efficiency and performance of the panel producing more electricity.
It is a reliable, efficient and economical solution that adapts very well to current residential needs. In addition, it has a 12-year product warranty and a 30-year power output and degradation warranty.
LONGI solar panels belong to the group of brands classified as Tier 1, the world's best manufacturers in the solar sector.
LONGI 445Wp Bifacial solar panels from LONGI offer a very good solution for today's installations:
-        Advanced module technology, such as gallium wafers, offering increased efficiency.
-        Validated bifacial energy yield.
-        Compatibility with the world's best inverter brands, Tier 1.
-        Operability in a wide range of weather conditions, from -40ºC to 85ºC ambient temperature.
-        Maximum mechanical load of up to 5400Pa static at the front and 2400Pa at the rear, which favours the resistance of the solar panel.
-        Low power-temperature coefficients, -0.34%/ºC, voltage-temperature, -0.265%/ºC and current-temperature, +0.05%/ºC, allowing better performance at high temperatures.
-        Estimated useful life of more than 30 years, operating at 85% of initial power.
-        International certification in relation to environmental impact and quality of product, material and operation.
Characteristics in STC (1000 W/m2; T cell of 25ºC):
Model

LR4-72HBD-445M

Electrical Features

Peak power (Wp)

445

Bifaciality

70 +/- 5%

Maximum power tolerance (%)

+3/0

Module efficiency (%)

20,5

Rated voltage (Vmpp)

41,2

Rated current (Impp)

10,8

Open circuit voltage (Voc)

49,4

Short circuit current (Isc)

11,52

Maximum system voltage (V)

1500

Maximum series fuse rating (A)

25

Mechanical Features

Solar cells

144 (6x24) Half-cut

Glass

Dual, 2.0+2.0mm, heat treated

Frame

Anodized aluminum alloy class II

JBox

IP-68 with 3 bypass diodes

Dimensions (mm)

2094 x 1038 x 35

Weight (kg)

27,5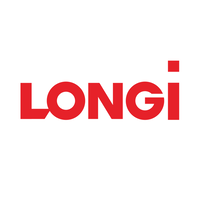 Data sheet
Power (W)

400 - 445

Height (cm)

200 - 209.9

Width (cm)

100 - 109.9

Frame

Silver

Short Circuit Current Isc (A)

11 - 11.99
16 other products in the same category: